This is my new blog where I add lots of exciting research I am finding on my 'Incredible Bleeding Woman' project that I am undertaking at Middlesex University.
I've been looking at lots of old movies and performance research that deal with themes of menstruation, miscarriage and the fecund female body. This moment in the 1981 Zulawski film 'Possesssion' where Isabelle Adjani has a horrific screaming blood and vomit miscarriage in the tunnels of the Berlin subway is something I saw back in the early 1990s and it was so powerful I never forgot about it. The scene is very choreographic and frenzied almost like a speeded up very neurotic version of a Pina Bausch piece. In the scene Isabelle Adjanis performance is heightened by the extraordinary special effect of a dress that never stops violently bleeding and spewing. This is female abjection in double time…..
Zulawskis Possession 1981 famous miscarriage scene
I love how the characters go back and forth from visually clean and calm to dirty, ripped and crazed throughout the film. There is also a kind of serpent/foetus/lover/octopus charcter, which is remincent of the sperm baby in Lynchs' Eraserhead.
I remember quite of bit of talk about menstruation in the 1990s and I was a regular at the radical anthropologist Chris Knights lectures in Camden. His book Blood Relations and The Origins of Human Culture was an important part of what sparked my interest. At the time I made one of my still favourite pieces of performance of my career- my one woman show 'Jewess Tattooess'. I looked at the relationship of Jewish women to tattoos and blood and breifly touched on notions of ritual impurity and menstrual blood…..but focussed more on the Jewish taboos around tattoos. After deciding it was a subject I wanted to revisit in 2013 I am excited that this seems timely and lots of new stories are popping up in the media.
Telling people about the subjects I'm researching I get lots of great links sent to me. This one is from the fantastic performer Marawa The Amazing about a new documentary by Amit Virmani about an man called Muruganantham in India who realized that Indian women could not afford sanitary towels and decided to do something about it: Menstrual Man http://www.menstrualman.com
Lots of people have been talking about American Apparels Menstrual T shirt…I want one!!!!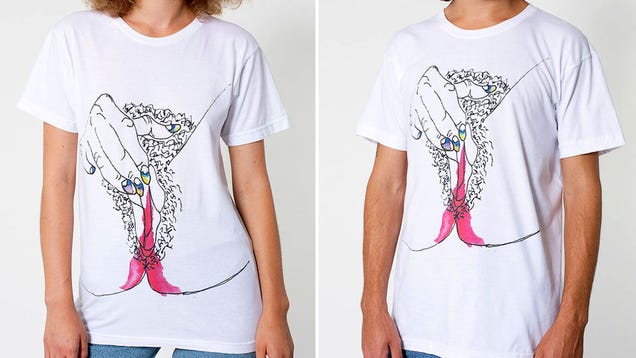 My dear friend Dr Tuppy Owens sent me links to this menstrual art and erotica site, Seeing Red Project.  I find some of the images really moving and beautiful.
I've always been very excited by Orlans work and in this clip from a Guardian article from 2009 Stuart Jeffries speaks to her about her piece The Head of Medusa:
'As an artist, she is undaunted by controversy. In 1978, she displayed her menstruating genitals under a magnifying glass in a performance piece called Documentary Study: The Head of Medusa, subverting a motto she had taken from a Sigmund Freud text: "At the sight of the vulva, even the devil runs away"'
— Stuart Jeffries theguardian.com, Wednesday 1 July 2009
I don't know if  this is an image from that piece but here is Orlan in performance: